Wassup Hepcats!
Oh of course I was gonna do it this week. This is the big one, right? Well maybe not as big in the last decade as in decades past, decades past when people used to buy "albums", and not just cherry pick songs off of iTunes (or LimeWire - not that I do that, federales).
I'm not sure how I feel about this list. I would guess about 70 -80 of these albums I've never owned in any physical form, never pored over the liner notes, never stared at the cover art, never did lines off the jewel case. (Jokes, federales!). And I know it's annoying and old-fogeyish to bitch about weird shit like that, and I wouldn't trade what we have now for what we had then, but I do kinda miss the tangible aspect of the album, especially arguing with friends over things like sequencing. August of 1992 was in large part a discussion with my friend Brian about the best order of the songs on "Achtung Baby".
And in honor of that there is a U2 album AND a Bruce Springsteen album in here. But don't worry also like 4 White Stripes records.
BRUUUCE!

Which brings me to another caveat: there are certain bands here who may be what you call "over-represented". But I don't. If one of my favorite groups released 3 or 4 albums in the last ten years, and I really liked all of them, I'm not gonna leave them off so that I can pretend I enjoyed whatever it is that Sigur Ros thinks they're doing. That said, it was a factor in the tiebreaking process, and you can thank your lucky stars for that, Black Rebel Motorcycle Club.

So! 100 through 51 will be done in small little capsules, and we'll save the big guns for the top fitty. S'alright?

S'alright.

100. BRMC (2001)

Black Rebel Motorcycle Club

Best Jam: "Love Burns"

99. Merriweather Post Pavilion (2009)

Animal Collective

Best Jam: "My Girls"

98. Earthquake Glue (2003)

Guided by Voices

Best Jam: "The Best of Jill Hives"

97. The Believer (2006)

Rhett Miller

Best Jam: "Fireflies"

96. You Are the Quarry (2004)

Morrissey

Best Jam: "First of the Gang to Die"

95. Wilco (the Album) (2009)

Wilco

Best Jam: "You Never Know"

94. The Execution of All Things (2002)

Rilo Kiley

Best Jam: "Spectacular Views"

93. Rockin' The Suburbs (2001)

Ben Folds

Best Jam: "Gone"

92. Poses (2001)

Rufus Wainwright

Best Jam: "Cigarettes and Chocolate Milk"

91. Scissor Sisters (2004)

Scissor Sisters

Best Jam: "Take Your Mama"

90. Silent Alarm (2005)

Bloc Party

Best Jam: "Like Eating Glass"

89. Picaresque (2005)

The Decemberists

Best Jam: "We Both Go Down Together"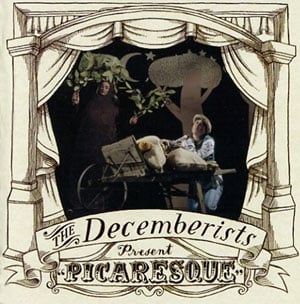 88. All That You Can't Leave Behind (2000)

U2

Best Jam: "Walk On"

87. Cassadaga (2007)

Bright Eyes

Best Jam: "If The Brakeman Turns My Way"

86. Gimme Fiction (2005)

Spoon

Best Jam: "Sister Jack"

85. Humanoid (2009)

Tokio Hotel

Best Jam: "World Behind My Wall"

84. Blood Money (2002)

Tom Waits

Best Jam: "God's Away On Business"

83. Desperate Youth, Bloodthirsty Babes (2004)

TV on the Radio

Best Jam: "Dreams"

82. Wolfmother (2005)

Wolfmother

Best Jam: "Joker and the Thief"

81. Narrow Stairs (2008)

Death Cab for Cutie

Best Jam: "Grapevine Fires"

80. Icky Thump (2007)

The White Stripes

Best Jam: "Icky Thump"

79. You Are Free (2003)

Cat Power

Best Jam: "Good Woman"

78. The Resistance (2009)

Muse

Best Jam: "United States of Eurasia/Collateral Damage"

77. Essence (2001)

Lucinda Williams

Best Jam: "I Envy The Wind"

76. For Emma, Forever Ago (2008)

Bon Iver

Best Jam: "Blindsided"